The King Guide wall charts are a useful reference to have visible in the hospital and pharmacy for situations where a quick 'yes' or 'no' answer is needed. With 122 IV drugs and 4 fluids the wall charts provide a comprehensive view of Y-Site compatibility for Critical Care Admixtures and Chemotherapy Admixtures on a laminated 27" x 27" wall chart.
Exceeds TJC Requirements
NABP Endorsed
For Pharmacists
Wall charts provide a convenient centralized offline way to quickly confirm the advisability of mixing intravenous drugs and a simple way to determine if more in-depth information is needed from the full text monographs provided in the complete King® Guide to Parenteral Admixtures®.
For Nurses
At nurses stations, the wall charts provide IV compatibility information at the point of care. Having easy access to this information saves valuable time by reducing the need to call the pharmacy and provides nurses valuable information to confirm and verify drug compatibility questions prior to patient administration.
Wall Charts
Identify FDA Boxed Warning Drugs
Report Compatibility on 4 infusion fluids (D5W, D5½S, Lactated Ringer's, and Normal Saline)
Laminated which is required by some state inspectors
Drug Shortages? Need an alternative Diluent?
The ongoing shortage of drugs, and especially small volume parenteral solutions, is causing changes in methods of drug administration. The King Guide® to Parenteral Admixtures® Wall Charts can provide a quick alternative diluent to saline.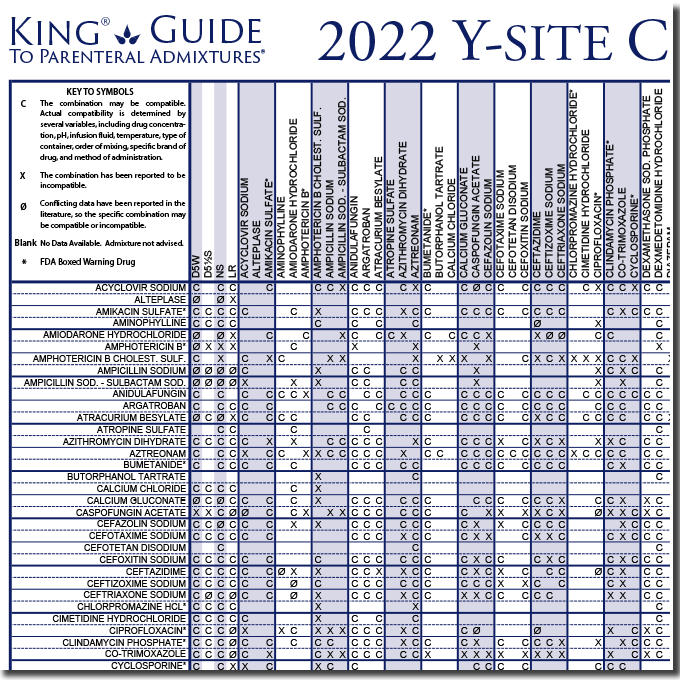 2022 Y-Site Compatibilty of Critical Care Admixtures
Designed to report y-site compatibility of intravenous drugs commonly administered to patients in the hospital, in emergency, and in home care/hospice. Includes new studies that appeared in the complete King Guide throughout 2021.
Includes: 4 Infusion Fluids and 122 IV Drugs
Updated Y-Site Compatibility:

Epinephrine Hydrochloride
Esmolol Hydrochloride
Furosemide
Meropenem
Total Parenteral Nutrition Admixtures
Updated Infusion Fluid Compatibility for 15 drugs
Also Available in French
---
Also Available...
2021 Y-Site Compatibility of Chemotherapy Admixtures
Designed to report y-site compatibility of intravenous drugs commonly administered to patients receiving chemotherapy and includes antibiotics and parenteral nutrition admixtures.
Includes: 4 Infusion Fluids and 122 injectable drugs commonly administered to chemotherapy patients
---